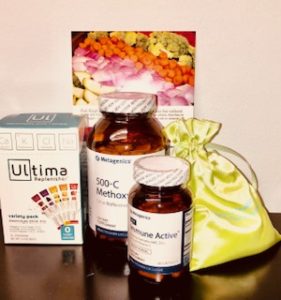 GET YOUR IMMUNE WELLNESS PACK TODAY
INCLUDED IN YOUR SUPPLEMENT PACKAGE:

*500-C Methoxyflavone
*Immune Active
*Ultima Replenish Drink Sticks
*Immune Boosting Recipe Card
*Epsom Bath Salts

Boost your immune system this cold/flu/Covid season with our supplement packs.
For a limited time, Specific Wellness is offering a Wellness Pack at a great price… $75.00 (Value of $125.00)
WHY WE NEED IT
THE DETAILS
500-C Methoxyflavone:
Dr Stacey's favorite form of Vitamin C
Citrus bioflavonoid complex which protects against infections, reduces cholesterol and provides anti-aging effects
Provides potent antioxidant protection and supports healthy immune system function
Supports healthy collagen production, the main component of connective tissue. This can help reduce wrinkles help strengthen bones
Immune Active:
Provides high potency vitamin C and zinc which is important in fighting viruses including the flu and Covid-19
Features quercetin (a bioflavinoid that helps reduce inflammation), NAC (N-acetyl cysteine that helps convert to our main antioxidant, glutathione), and EGCG (key component in green tea that also protects the cells from some cancers) to help support a healthy immune response and promote antioxidant processes
Ultima Replenisher Drink Sticks:
Hydration at it's finest. No chemicals, or artificial sweeteners
Great for replacing electrolytes lost during activity or when you are sick with a fever and loose stools.
Clean ingredients, zero calories, zero sugar, plant-based colors & flavors
Vegan, gluten free, caffeine free, soy/dairy free, keto friendly, paleo-friendly, Non-GMO
Made with all 6 electrolytes + support minerals, lower sodium
Immune Boosting Recipe Card
Easy to prepare recipe
From fresh ingredients
Packed full of immune boosting anti-oxidants, vitamins and minerals
Delicious!
Epsom Bath Salts
A source of magnesium
Relaxes muscles
Decreases stress hormones
Did you know that if you have optimal levels of Vitamin C, Vitamin D and Zinc, your risk of getting Covid goes down considerably.
I am often asked if my kids take supplements. They do. Sometimes I have to remind them, but they know the value of them and they feel better when they take them.
For dosages, I am happy to muscle test you when you come pick up your package.
If you would also like an appointment you can book one here.