The Green Breakfast Bowl is this month's featured recipe. It's a delicious way to sneak in some dark green veggies and some brain-boosting avocado.
Breakfast can be the hardest meal to eat healthily. When faced with bagels, cereal, pancakes, muffins, and waffles it's hard to reheat dinner and enjoy it. Breakfast can be a beautiful thing. A time when you dust off the sleepiness of the night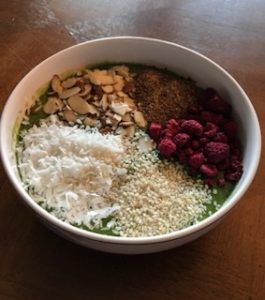 and welcome in the blossoming of the day. Poetic, right? But seriously, breakfast can be a special meal. From oatmeal parfaits to Shakshuka (recipe here), breakfast can have its own healthy spotlight. Introducing the breakfast bowl or smoothie bowl (or acai bowl if you have been to Cafe' Succo in Birmingham, MI). It has many variations all starting with a fruit and veggie smoothie base and a variety of healthy toppings. It's a sweet dish so it's not great for a ketogenic or a candida diet but much better than the traditional American fare.
This is a healthy smoothie with an artistic twist. Since it's in a bowl and you eat it with a spoon you get to eat it more slowly and savor it, which is also great for your digestive tract. You can indulge in the beauty of the colorful berries and snow white coconut set in a field of green goodness. Not to mention, it's just plain delicious!
Get your groovy smoothie on!