I have a huge smile on my face as I write this and welcome you back to the clinic. It has been far too long. Things are a bit different now, so lets go over the changes.
How We Pivot
I miss you all so much and can't wait to see your smiling faces..although we will only be able to tell they are smiles because of the crinkles of our eyes, since we will all be wearing masks that cover both our noses and mouths.
Only patients who are getting treatments are to come into the clinic. I love being introduced to your cousin's, uncle's, friend's, sister…but let's wait until we have less restrictions.
Doors will be propped open so there will be minimal touching of doors.
Upon entering you can place your belongings in a safe place and we will both wash our hands with good old soap and water, for 20 seconds.
You will fill out a questionnaire regarding any exposure you may have had to the virus that shall not be named…well, it is named and there are so many names… Coronavirus, Covid-19, Sars-CoV-2.
If the questionnaire indicates that it is not safe for you to be in the clinic, we will give you a great big virtual hug and send you home to drink soup and take you vitamins until we agree it is safe for you to return.  These are the questions…

Are you experiencing any of the following symptoms that you know are not related to allergies..cough, shortness of breath, nasal or sinus congestion, runny nose or sore throat?
Do you have body aches or fever?
Do you have a temperature over 99 degrees Fahrenheit?
Do you have reason to believe you have had exposure to Covid-19? If so, when?

You will get the wonderful care that you came in for, we will talk, catch up, lament the fact that our masks make our glasses fog up but celebrate that we will be saving a mint in lipstick sales.
You will swipe your card at the desk but won't need to sign your receipt, and we can even email you a receipt if you'd like.
We will take time between patient visits to clean, disinfect and sanitize as necessary.
This Is A Safe Space
We hope that will make you comfortable in visiting us and getting the care you need.
If you are in pain and comfortable venturing out, please come in.
If you are needing me for anything that can be done virtually, please use that option. I do not want to encourage you to venture out against our governors orders, if you feel it isn't safe for you, your loved ones or for me, if you are not ready to do so or if you are just plain scared.
Take your time on re-entry and let me know if I can help you in the process.
Carry on,
Dr. Stacey
Here are some extras…
This is a short animated video that explains how our body reacts to viruses
This is a delicious recipe for pan-seared salmon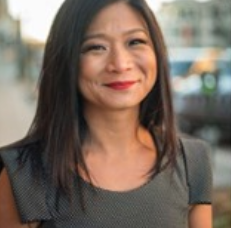 This is a link to the amazing medical massage therapist Dr. Julie Kwon Evans who so many of you have been asking about. 
This is my private Facebook group that you are all invited to join for crazy, funny, educational entertainment.